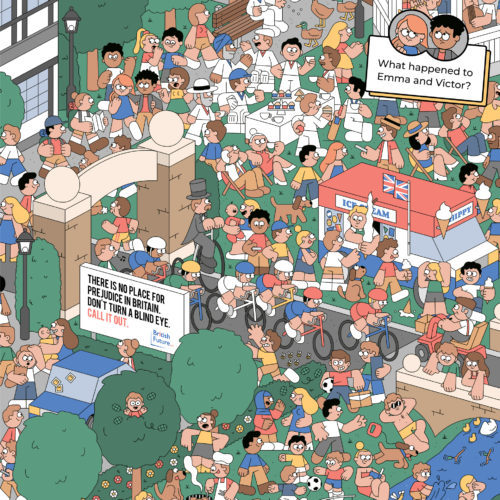 The main objective of British Future's "No Place for Prejudice" campaign was to engage rather than alienate audiences that are anxious about the prospects of a multi-ethnic society, diversity and immigration, and who may therefore be vulnerable to far-right messaging. Using research based on focus groups held by British Future, the key message of the campaign was to communicate that while most people in Britain today will object to racism and prejudice, a prejudiced minority still does immense harm and should be called out and opposed. 
The online campaign centred on a series of illustrations that all contained the message:  "There is no place for prejudice in Britain. Don't turn a blind eye. Call it out." These digital illustrations were designed for it to be initially difficult to spot the incident of bigotry they contain in order to encourage engagement with the content  by 'pinching and zooming' to look closer; and to amplify the campaign's message that it is important to identify and call out incidences of discrimination and prejudice. One additional objective of the campaign was to direct curious users to a post containing information about what people can do to stand up to prejudice, drawing on research which found that many people are unsure what they should do if they witness hatred. The campaign hoped that those who viewed this information would become more likely to stand by the victims should they witness an instance of racism or prejudice.
Visit British Future's website or Facebook page for more.